It has been coooooldd!!! brrr!
We made a Curried Lentil Soup to warm up! I was worried about this soup, I will admit. Mr. NoNo does NOT like anything - and I mean anything - with curry...I only made half of this recipe, but next time, I will make the whole 10 serving pot! It was delicious.
I got the recipe from the
PCRM website
- they have a lot of information on keeping kids and families safe, healthy, and happy! I modified the recipe slightly, just so that I could make this quickly on a weeknight.
Curried Lentil Soup
Makes 2-1/2 quarts or 10 1-cup servings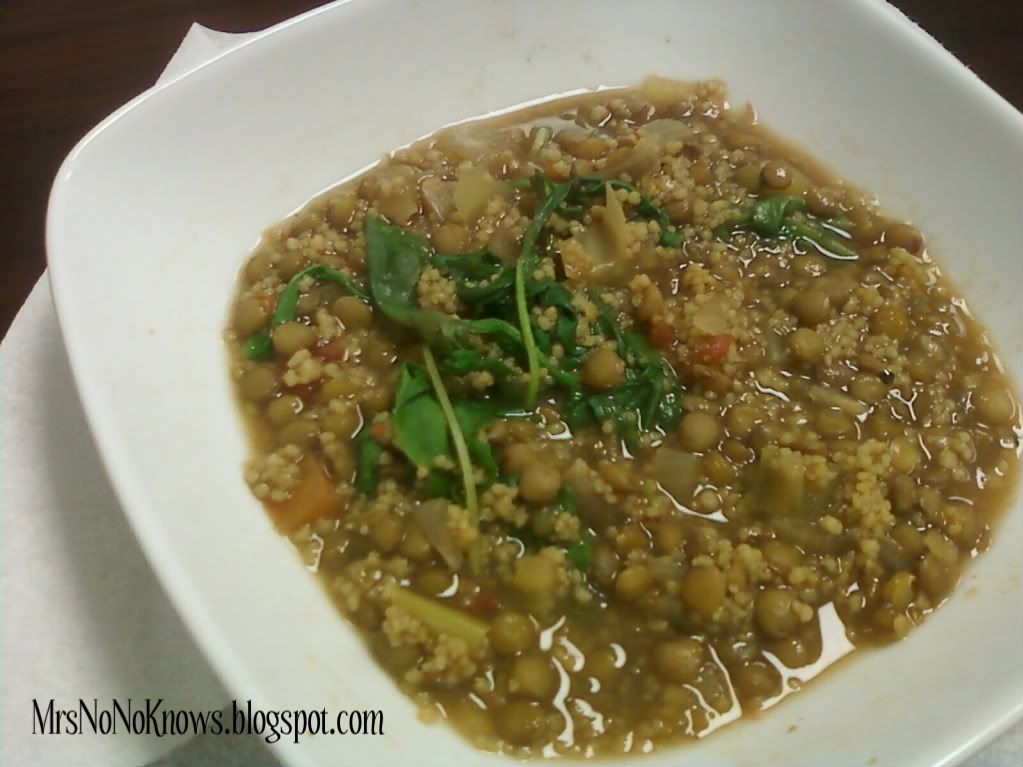 1 cup dry lentils, rinsed
1 onion, chopped
2 celery stalks, sliced
1/2 tsp ground cumin
8 cups vegetable broth
1/2 cup dry couscous
1 cup crushed tomatoes
1 1/2 tsp curry powder
1/8 tsp black pepper
salt to taste
handful of baby spinach, optional
In your pressure cooker, combine lentils, cumin, and broth. Bring up to pressure and cook until the lentils are slightly soft, approx 12 minutes. (You will continue cooking, so don't over cook the lentils right now!)
In a saute pan, combine onion, celery, and garlic and saute for 5 - 10 minutes, until the onion is translucent and soft.
Once the lentils are ready, quickly de-pressurize by running the cooker under cool water in your sink. Dry the pan off and put on the stove top. Over medium heat, stir in cooked onion mixture, couscous, tomatoes, curry powder, and black pepper. Cook for about 10 minutes, until the couscous and lentils are tender. Salt, if needed.
To up the nutrient content a bit, I added in some fresh baby spinach into the bottom of each bowl and then added the soup on top, stirring the soup and spinach to let the heat of the soup wilt the spinach a little.
It was warm and filling!
More later!! :)